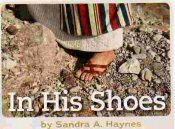 I walked today where Jesus walked,
And saw the masses there,
The halting, stumbling multitudes,
Bent down with weight of care.

I viewed the blankness of the face,
Resigned to hopeless state,
While others, seen with curling lip
Reflected mindless hate.

The hungry and the desperate ones,
With dimness of the eye,
Provoked an anguish in my soul
That made rejoicing die.

I felt, in part, the pain He bore,
The heartach that He knew,
As He behelf the helpless state
Of me as well as you.

For this, He bore a heavy cross,
That one day in its place,
He'd know the joy of saving us,
Rejoicing, face to face.

Sandra A. Haynes is currently a writing instructor at Umpqua Community College in Roseburg, Oregon. She has written three thought-provoking boos of poems: From Where I Stand, The Things That Matter Most, and Of Butterflies and Men.